My Blog
Posts for: February, 2019
By Sharp Smiles, LLC
February 18, 2019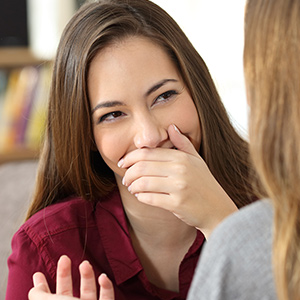 Besides attractively showcasing your teeth, your gums protect your teeth and underlying bone from bacteria and abrasive food particles. Sometimes, though, the gums can pull back or recede from the teeth, leaving them exposed and vulnerable to damage and disease.
Here are 4 things that could contribute to gum recession—and what you can do about them.
Periodontal (gum) disease. This family of aggressive gum infections is by far the most common cause for recession. Triggered mainly by bacterial plaque, gum disease can cause the gums to detach and then recede from the teeth. To prevent gum disease, you should practice daily brushing and flossing and see your dentist at least twice a year to thoroughly remove plaque. And see your dentist as soon as possible for diagnosis and treatment at the first sign of red, swollen or bleeding gums.
Tooth position. While a tooth normally erupts surrounded by bone, sometimes it erupts out of correct alignment and is therefore outside the bony housing and protective gum tissue. Orthodontic treatment to move teeth to better positions can correct this problem, as well as stimulate the gum tissues around the involved teeth to thicken and become more resistant to recession.
Thin gum tissues. Thin gum tissues, a quality you inherit from your parents, are more susceptible to wear and tear and so more likely to recede. If you have thin gum tissues you'll need to stay on high alert for any signs of disease or problems. And you should also be mindful of our next common cause, which is….
Overaggressive hygiene. While it seems counterintuitive, brushing doesn't require a lot of "elbow grease" to remove plaque. A gentle scrubbing motion over all your tooth surfaces is usually sufficient. On the other hand, applying too much force (or brushing too often) can damage your gums over time and cause them to recede. And as we alluded to before, this is especially problematic for people with thinner gum tissues. So brush gently but thoroughly to protect your gums.
If you would like more information on treating gum recession, please contact us or schedule an appointment for a consultation. You can also learn more about this topic by reading the Dear Doctor magazine article "Gum Recession."
By Sharp Smiles, LLC
February 08, 2019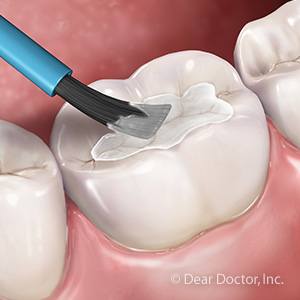 While children are less likely than adults to experience periodontal (gum) disease, the same can't be said for tooth decay. One aggressive form of decay called early childhood caries (ECC) can have a profound effect on a child's dental development and future health.
That's why dentists who treat young children often use a variety of preventive measures to reduce the risk of ECC and other dental diseases. One popular method is dental sealants, dental material coatings applied to the biting surfaces of teeth that fill in the naturally occurring pits and crevices. These areas are highly susceptible to plaque formation, a bacterial biofilm of food particles that tends to accumulate on teeth. It's the bacteria that live in plaque that are most responsible for the formation of tooth decay.
Roughly one third of children between the ages of 6 and 11 have received some form of dental sealant. It's a quick and painless procedure applied during a routine office visit. The dentist brushes the sealant in liquid form on the teeth, and then hardens it with a special curing light. It's common for children to begin obtaining sealant protection as their molars begin to come in.
With their increased popularity among dentists, researchers have conducted a number of studies to see whether dental sealants have a measurable effect reducing tooth decay. After reviewing the cases of thousands of children over several years, many of these studies seemed to show that children who didn't receive sealants were more than twice as likely to get cavities as children who did.
As evidence continues to mount for dental sealants' effectiveness protecting young children from decay, both the American Dental Association and the American Academy of Pediatric Dentistry now recommend it for all children. Not only can sealants help preserve children's teeth now, but they can reduce future costs for dental treatment that results from tooth decay.
If you would like more information on children's dental sealants and other decay prevention measures, please contact us or schedule an appointment for a consultation.